Nutraceuticals
An ounce of prevention is worth a pound of cure.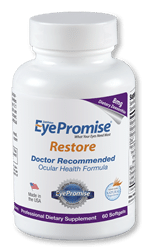 Salem Eye Clinic offers science-based nutraceuticals for the promotion of eye health.  Eyepromise products are made in the U.S.A. from all-natural ingredients and are backed by an unconditional 60-day, money-back guarantee.
We carry formulations to combat dry eyes, to support retinal function, and to increase Macular Pigment Optical Density (Low macular pigment is a leading risk factor for AMD).